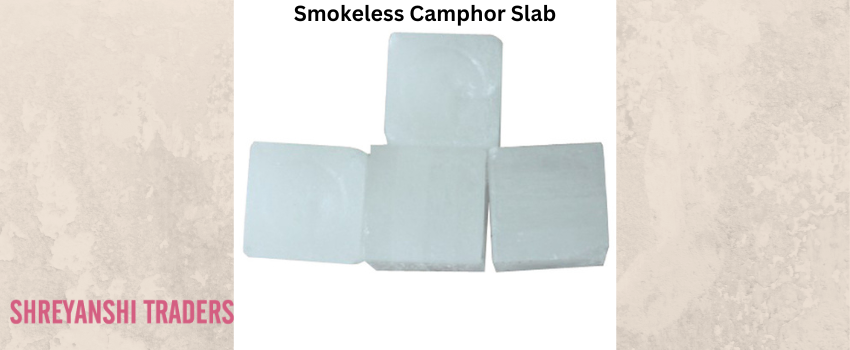 Camphor is a white crystalline, waxy texture with a solid transparent look with a strong aroma. Traditionally, this flammable compound was obtained from the distillation of bark and wood of camphor tree. These days synthetic camphor is also produced from the oil of turpentine. The term Camphor is derived from the French word Camphire. In Latin, it is called Camfora and the Arabic name is Kafur, while in Sanskrit it is called Karpoor and Kapoor in Hindi. It is highly used in Yagya rituals and also used in daily Aarti rituals.
Smokeless Camphor slab burns itself out without leaving any residue. It signifies the inherent tendencies which burn themselves out completely without leaving traces of ego when we submit ourselves before the fire of knowledge. Smokeless Camphor from a reputable smokeless camphor slab manufacturer is completely free from chemicals and widely used in various Hindu religious ceremonies. Smokeless camphor slabs are made of superior quality to enhance your overall puja experience.
Since ancient times, people have used camphor while worshipping in temples or at home. Being a holy substance, even today most Hindu families use Camphor balls while performing the puja ceremony. However, apart from using it in religious parts, it can also be useful in treating many diseases. According to Ayurveda, Camphor has antimicrobial and anti-bacterial properties that are very helpful in curing many ailments.
Smokeless Camphor slabs are often used as a natural room freshener which serves many other purposes-
Keep Away Mosquitoes
It is extremely useful in getting rid of mosquitos in your surroundings, especially during the rainy season. Camphor has a natural mosquito-repellent capability. All you need to do is light the camphor in your room and close all the doors and Windows for 10 minutes to get the mosquito-free space.
Get rid of Insects and Ants
Camphor is also effective in eliminating ants and insects as it acts as a natural insecticide. Make a camphor powder and dissolve it in water. Now spray it all over the area wherever you see the ants.
Purify the environment
Burning smokeless camphor in your room is an effective way of killing germs. It also helps in purifying the air in your surroundings.
Relief from damp smell
Spraying camphor powder mixed with your favourite fragrant essential oil can reduce the foul or damp smell during monsoon to keep your home odor free.
Keep Your Mind Calm
Camphor slab from a renowned smokeless camphor slab supplier is quite effective in keeping the mind calm and releasing stress. It helps in soothing your tense nerves and brings peace to your mind.
Some of the crucial aspects that need to be considered while choosing the best smokeless camphor slab manufacturer-
They should have a well-appointed manufacturing facility to ensure top-quality standards by global norms.
They should have a team of skilled experts working for the betterment of the company by performing market research to find a good idea of the wishes of the customers.
They should be able to give the right product ranges which have a high chance to meet the modern needs of the clients.
They should have the assistance of a talented and professional workforce who ensure they finish the job within the agreed period.
They should have a wide distribution network to make sure of the on-time delivery to the destination of the clients.
They should ensure excellent quality smokeless camphor slabs at market-leading prices.
Conclusion
It is always recommended to use a smokeless camphor slab instead of normal camphor. Smokeless Camphor Slab is a great way to enjoy the benefits of camphor without any Smokey smell which might cause discomfort to many people. Thus, buying smokeless camphor from a smokeless camphor slab manufacturer is an effective way to keep yourself and your loved ones safe from negative energies.